Meet Dr. Tolat
Podiatrist Nrup Tolat, DPM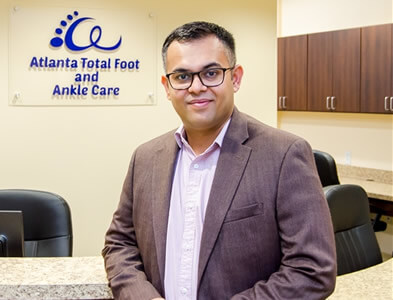 Nrup Tolat, DPM
As an established expert in innovative foot and ankle therapies, top-rated podiatrist Nrup Tolat, DPM, can diagnose and treat all types of lower leg ailments. Dr. Tolat welcomes new and existing patients to Atlanta Total Foot and Ankle located in the heart of Woodstock, Georgia.
A Georgia native, Dr. Tolat graduated from Lassiter High School in Marietta and is proud to serve the community he grew up in. He attended Kennesaw State University and Georgia State University for his undergraduate studies before relocating for graduate school.
Dr. Tolat, Board Certified Podiatrist, earned his Doctorate of Podiatric Medicine from Dr. WIlliam M. Scholl College of Podiatric Medicine at Rosalind Franklin University of Medicine and Science in North Chicago. He completed his three-year residency training in podiatric medicine and surgery, with added credentialing in reconstructive rearfoot and ankle surgery (PMSR/RRA) at Northwell Health Long Island Jewish Forest Hills Hospital in New York.
Throughout his residency, Dr. Tolat was mentored by and trained with leading podiatric and orthopedic surgeons from New York. He also received extensive experience with wound care and diabetic limb salvage and trauma care. Two years of Dr. Tolat's residency were spent taking 24-hour Level 1 trauma and emergency calls at Nassau University Medical Center in East Meadow, New York.
Dr. Tolat diagnoses lower extremity conditions by performing comprehensive evaluations, as well as gathering in-office digital X-ray. He regularly diagnoses and treats patients who have plantar fasciitis, bunions, hammertoes, flat feet, high arches, and sports injuries, to name a few. If needed, Dr. Tolat can even perform urgent procedures and minimally invasive surgeries.
His patients often commend his willingness to spend time educating them about different treatment options in an effort to help patients stay involved in every step of their podiatric health care.
Come Visit Out Foot Doctor in Woodstock or Atlanta, GA!
We accept most insurance plans and welcome new patients!
Call today and get back on your feet! Woodstock and Atlanta at (678) 783-3701.