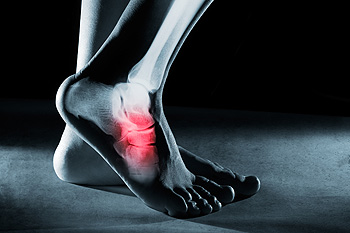 It's hard to imagine, but the foot contains 26 bones that work together with ligaments, cartilage, and tendons to help you stand, walk, and run. Sometimes the area of the foot just in front of the ankle, known as the midfoot, becomes swollen and painful. It also may develop spurs that become painful. When the cartilage between the midfoot bones begins to wear out, the midfoot bones start to rub against each other, causing inflammatory pain, or arthritis. Luckily, several non-surgical remedies can help to relieve the pain. Start with finding shoes with a stiffer sole that can reduce the force on the midfoot area when you walk. In contrast, a softer mesh upper in the shoe will further disperse the pressure on the area. It's best to avoid tightening your laces too much, thereby reducing the downward force. It also may help to give up running and jogging and replace them with water aerobics, swimming, or stationary bike riding for exercise. Obesity just makes midfoot arthritis even more painful, so adopting a healthier diet can help too. Taking non-steroidal anti-inflammatory medication, available over the counter, can work to reduce the inflammation and pain. However, if your midfoot pain increases despite these measures, it is a good idea to make an appointment with a podiatrist who can examine your feet and offer enhanced treatment options, including corticosteroid injections or in some cases, surgery.
Arthritis can be a difficult condition to live with. If you are seeking treatment, contact Nrup Tolat, DPM from Atlanta Total Foot & Ankle Care. Our doctor can provide the care you need to keep you pain-free and on your feet.
Arthritic Foot Care  
Arthritis is a joint disorder that involves the inflammation of different joints in your body, such as those in your feet. Arthritis is often caused by a degenerative joint disease and causes mild to severe pain in all affected areas. In addition to this, swelling and stiffness in the affected joints can also be a common symptom of arthritis.
In many cases, wearing ill-fitting shoes can worsen the effects and pain of arthritis. Wearing shoes that have a lower heel and extra room can help your feet feel more comfortable. In cases of rheumatoid arthritis, the arch in your foot may become problematic. Buying shoes with proper arch support that contour to your feet can help immensely.
Alleviating Arthritic Pain
Exercises that stretch the foot can prevent further pain and injury and increase mobility
Most of the pain can be alleviated with anti-inflammatory drugs, heat, and topical medications
Massages can help temporarily alleviate pain.
It is best to see your doctor for the treatment that is right for your needs and symptoms. Conditions vary, and a podiatrist can help you determine the right method of care for your feet.
If you have any questions, please feel free to contact our offices located in Woodstock and Atlanta, GA . We offer the newest diagnostic tools and technology to treat your foot and ankle needs.
Read more about Arthritic Foot Care